Roll over image to zoom in
Description
If you are interested in purchasing a wind turbine, please email sales@callidustrade.co.uk for further information
The Leading Edge LE-v50 vertical axis wind turbine is a compact, silent and lightweight turbine designed to trickle charge marine batteries or for low power electronic devices such as data-loggers, radio and telemetry equipment. The vertical axis design is able to work effectively in challenging conditions compared with a horizontal axis turbine.
The LE-v50 wind turbine can be found supplementing solar PV panels in 'off-grid' renewable energy systems. 
The LE-v50 wind turbine is also a regular sight at marinas providing a trickle charge to valuable batteries whilst the owners are away. This saves money by not having to connect to 'shore power' or repair and replace expensive batteries that have been damaged by becoming discharged. It reduces the effects of mains induced electrolysis and corrosion on the boat as well as meaning that owners can go on extended cruises without need to run the engine.
The LE-v50 is available as a 12V, 24V and 48V wind turbine.
This kit includes:
- LE-v50 Turbine in standard or extreme, 12V, 24V or 48V. Please choose your option.
The LE-v50 turbine doesn't require an external charge controller. Due to its unique design, the LE-v50 is able to trickle charge and regulate itself internally. A run / stop switch can be used with the LE-v50 but is not essential. For locations where winds regularly gust to 27 m/s (60mph) or temperatures reach -40 degrees C, please see the LE-v50 Extreme, which features enhancements that reduce the stress and fatigue on the blades during prolonged periods of storm force winds. It is available in black, has poly carbonate cowlings and low temperatures bearings for subzero temperatures. 
PLEASE NOTE THERE IS A 3-4 WEEK LEAD TIME FOR WIND TURBINES
Key Features
Silent operation
Absolutely no noise as the turbine operates
Small compact size
Easy to install in places where space is a premium
Lightweight
At only 9kg, the LE-v50 wind turbine can be installed with ease
Reliable
With only one moving set of parts and no brushes to wear out
Rugged
LE-v50 is designed & proven to survive winds up to 27m/s (60mph)
Easy installation
Extruded aluminium spine and ruggedised brackets for mounting on 50mm OD pole
Fully marinised
Designed for corrosive marine environment
The LE-v50 wind turbine is manufactured from high quality aluminium alloys and stainless steel which has been laser processed, CNC machined, hard anodized and powder coated to ensure that the turbine will withstand the harsh effects of the extreme environments that it was originally designed for.
With only 1 moving part, there is little to go wrong and no brushes or slip-rings to wear out and need replacing. The bearings are sealed for life and fully lubricated, so no greasing or maintenance is required. All of the fixings are manufactured from A4 stainless steel which are able to withstand the most corrosive of environments.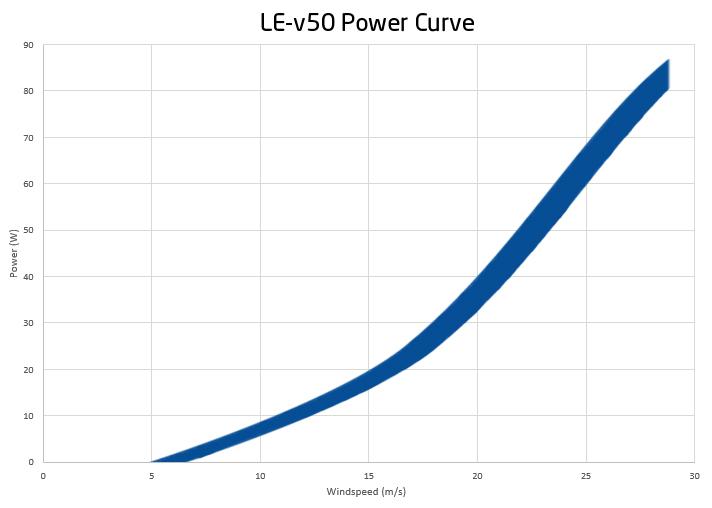 Pure performance
The LE-v50 uses a proven 'Savonious' rotor design which gives silent and effective performance. Using the latest solid modelling and Computational Fluid Dynamic simulations, we  have come up with an elegant 'cross-ventilated' rotor which provides extremely good power conversion for a vertical axis wind turbine of this size.
The rotor is then coupled to our specially designed low inertia, zero 'cogging' axial flux permanent magnet alternator to ensure an excellent power curve. Using Neodymium rare earth magnets, this alternator design has become one of the most field proven and effective alternators that is deployed across the entire range of Leading Edge Turbines!
Absolute safety
Unlike any other small wind turbine you will find, this turbine can even be allowed to run 'off-load' with no connection to the batteries. The LE-v50's rotor design will limit its RPM automatically. If anything comes into contact with the rotating blades, it will be pushed away from the rotor rather than being caught by the spinning and causing damage. 
These safety features make the wind turbine ideal for installation in places where space might be an issue, and where people are nearby – perfect as marine wind generators!
Payment & Security
Your payment information is processed securely. We do not store credit card details nor have access to your credit card information.