Roll over image to zoom in
Description
The Leading Edge LE-300 wind turbine, a quiet and compact horizontal axis turbine with a rotor diameter of 1m, is considered to be the most rugged  & reliable small wind turbine in its class.
Available in 12V, 24V and 48V for battery charging applications (SELECT VOLTAGE) - all at an affordable price!
There are two versions to choose from: the LE-300 for off-grid home and industrial applications on land; and the LE-300 Marine wind turbine, fully optimised for marine conditions, each is available as a kit including charge controller and run/stop switch. 
Key Features
Durable and reliable
Originally designed for industrial applications, withstands storm force winds up to 27m/s, 60mph
Powerful
The LE-300 wind turbine delivers 85W at wind speeds of 8m/s (18mph)
Lightweight turbine head
Weighs just 6.5Kg, this reduces the loading on the support structure and making installation easy in difficult locations
Appreciated for quietness
Low acoustic emissions from the advanced aerofoil blade design developed specifically for the LE-300 wind generator
Rugged
Aluminium alloy and stainless steel components are protected from the elements with aerospace grade coatings and anodising
Easy installation
Fit the blades & nose cone and make the electrical connections. All explained in an excellent user manual with detailed written explanations and diagrams
5 Year warranty
Backed up with excellent customer service from Leading Edge Power in the UK
Manufactured in the UK, the LE-300 wind turbine's excellent power production stems from an exceptionally low start-up wind speed and superb high wind speed output.  The LE-300 wind turbine is easy to integrate with solar panels to create off-grid power systems that require modest amounts of energy.
The LE-300 wind turbine has a heritage that is based around reliability and durability. The LE-300 is precision engineered in the UK with only two moving parts so little maintenance is required during the turbine's long operating life.
The LE-300 survives winds of up to 27m/s (60mph) by means of a simple passive aerodynamic design that limits turbine RPM and power output at a certain threshold.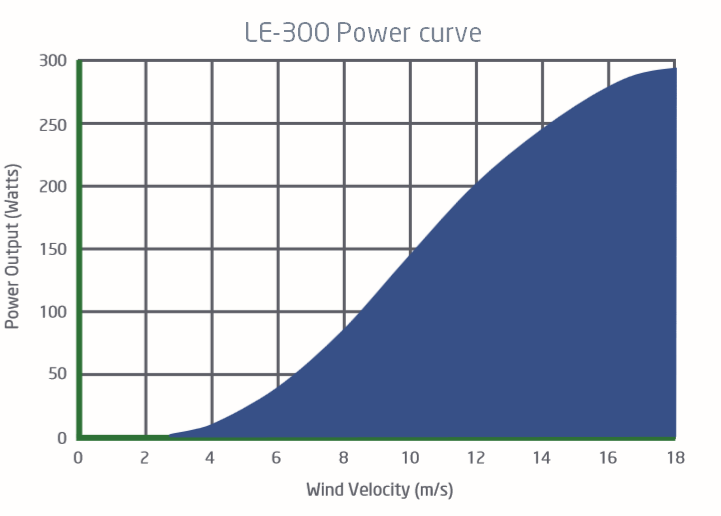 Rugged & reliable
The LE-300 wind turbine is manufactured from high quality aluminium alloys and stainless steel which has been laser processed, CNC machined, hard anodized and powder coated to ensure that the turbine will withstand the harsh effects of the extreme environments. The various fixings are manufactured from A4 stainless steel that can survive the harshest of environments. The bearings are sealed for life and fully lubricated, so no greasing or maintenance is required.
Efficient design from Years of experience in the Field
The LE-300 wind turbine is designed around a unique low inertia axial flux generator which utilises Neodymium rare earth magnetic materials. This alternator has zero 'cogging', which, together with its highly efficient and low 'TSR' WhispowerTM blades, allow the turbine to spin in the lightest of breezes and to react quickly to gusts.
Small & lightweight
The LE-300 wind turbine has a uniquely designed aluminium alloy chassis that not only gives an overall turbine weight of just 6kg, but ensures responsive reaction to gusty winds. Â This reduces the overall size and weight of the turbine and keeps the space envelope small enabling the turbine to be installed on yachts with ease. Â The
wind generator is fitted with integrated yaw slip-rings that allow the turbine to swivel 360 degrees continuously in order to follow the changing direction of the wind.
5 year warranty
For the LE-300, during the first two years of the warranty period any component found to be defective in material or workmanship will, at the discretion of Leading Edge, be replaced or repaired at no charge. For the remaining three years of the warranty period, Leading Edge will supply 'non-wearing' parts at no cost. However, we reserve the right to charge for any fitting of parts supplied during this three year period.
Protecting your batteries from over-charging
To protect the batteries from over-charging, a charge controller configured to 'diversion' mode is connected to your battery bank. It operates as an 'overflow' for the battery bank –  bleeding excess energy to a dump load when the batteries are full. This means that the turbine is always running – and not being switched on and off as is the case with other charge control methods.  See 'Related products' below.  Ask us for advice on whether the DL-300 or Tristar 45A charge controller is best for your application.
Payment & Security
Your payment information is processed securely. We do not store credit card details nor have access to your credit card information.