Roll over image to zoom in
Description
The Leading Edge LE-600 wind turbine is our 1.54m Dia wind turbine that produces 160W at wind speeds of 8m/s (18mph). The LE-600 has an innovative downwind arrangement so the rotor is at the back of the turbine. This allows the turbine to work in harmony with the forces of nature resulting in a stable and capable wind turbine.
The LE-600 wind turbine is often used to complement Solar PV in an off-grid power system in order to provide more power in the winter months and cut down on
diesel usage. Applications include remote industrial systems, water pumping systems and powering data communications equipment any application with a moderate power requirement. The turbine is available in a kit including charge controller, dump load and run/stop switch.
Choose between 12V, 24V or 48V for battery charging application(SELECT VOLTAGE ). Please note the LE-600 is not suitable for locations where the winds regularly gust to over 22m/s (50mph).
This Advanced kit includes:
- LE-600 Turbine 
- 45A Diversion Charge Controller for 24V and 48V / 60A Diversion Charge Controller for 12V
- 1000W Dump Load
- Run / Stop Switch
This bundle of equipment for the LE-600 provides a flexible renewable energy system that may include other sources of renewable power such as solar PV. The 45A diversion charge controller is used to divert excess power to the 1000W dump load when the batteries are full. A dedicated PV Charge controller should be used for the PV with both the wind turbine and PV connected directly to the batteries. Due to the high amperages that can be generated with this kit, a 12V system requires the 60A diversion charge controller. Please choose which voltage when ordering. The LE-600 is not suitable for locations where the winds regularly gust to over 22m/s (50mph)
PLEASE NOTE THERE IS A 3-4 WEEK LEAD TIME ON WIND TURBINES
Powerful
The LE-600 wind turbine can deliver outputs in excess of 750 watts
Durable and reliable
Originally designed for industrial applications, durability and reliability is the cornerstone of the LE-600 wind turbine architecture
Lightweight
Making it easier to install on high masts in difficult locations and minimises structural and foundation requirements
Downwind layout
Gives a small visual impact with no tail boom to vibrate and fail through fatigue
WhispowerTM
 

blades

Low acoustic emissions from the advanced aerofoil blade design
Easy installation
Fit the blades & nose cone and make the electrical connections. All explained in a comprehensive user manual with detailed written explanations and diagrams
2 Year manufacturer warranty
Backed up by our excellent customer service from our UK factory
Efficient design from years of experience in the field
The LE-600 wind turbine is designed around a unique low inertia axial flux generator which utilises Neodymium rare earth magnetic materials. This alternator has zero cogging, which, together with its highly efficient and low  WhispowerTM blades, allow the turbine to spin at low wind speeds and to react quickly to gusts.
Furthermore, the LE-600 wind turbine has a wild 3-phase output which is then converted to DC by an external regulator (supplied) which can be located near to the battery bank. This results in the most efficient way of transmitting power for long-distances between the wind turbine and the battery bank. Not only does this mean that you can save money by purchasing smaller less expensive transmission cables, but it means that you can put the turbine further away from the battery bank, in a position where it can be exposed to optimum wind conditions!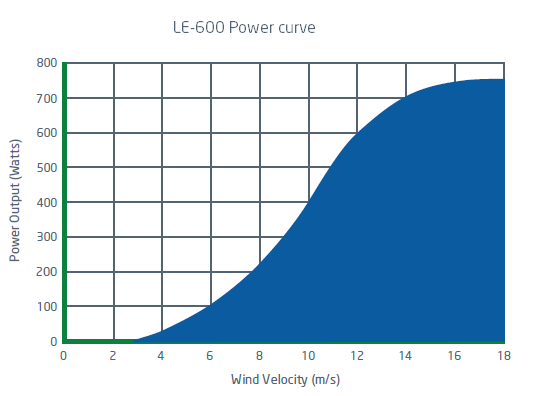 Small & lightweight
The LE-600 turbine is a downwind machine meaning that the rotor is at the back of the turbine. This reduces the overall size and weight of the turbine, whilst ensuring that there is no tail boom to amplify natural vibrations and eventually fail! The turbine is fitted with integrated yaw slip-rings that allow the turbine to swivel 360 degrees continuously in order to follow the changing direction of the wind. The unique wing chassis, manufactured from lightweight aluminium alloy, not only reduces the tower top weight, but further ensures that the turbine tracks the changing direction of the wind perfectly.
Rugged & reliable
The LE-600 wind turbine has been designed for industrial applications and has a heritage that is based around reliability and durability. The turbine is precision engineered in the UK with only two moving parts so little maintenance is required during the turbines long operating life..
The LE-600 wind turbine is manufactured from high quality aluminium alloys and stainless steel which has been laser processed, CNC machined, hard anodized and powder coated to ensure that the turbine will withstand extreme environments. The various nuts and bolts are manufactured from A4 stainless steel that are manufactured for the corrosive environments. The sealed bearings are  fully lubricated, so no greasing or maintenance is required.
Protecting your batteries from over-charging
To protect the batteries from over-charging, a PWM charge controller configured to 'diversion' mode is connected to your battery bank. It operates as an 'overflow' for the battery bank bleeding excess energy to a dump load when the batteries are full. This means that the turbine is always running and not being switched on and off as is the case with other charge control methods.
Payment & Security
Your payment information is processed securely. We do not store credit card details nor have access to your credit card information.