%-D
%!D:Day,Days;
%H
%!H:hour,hours;
%M
%!M:min,mins;
%S
%!S:sec,secs;
Victron Shed & Lighting Kit. Solar Power & Premium Led Lighting with PIR & AGM Battery
Tax included.
Shipping
calculated at checkout.
Nexy Day Delivery Available! Ends in:

(Order before midday on a business day)
%-D
%!D:Day,Days;
%-H
%!H:hour,hours;
%-M
%!M:min,mins;
%-S
%!S:sec,secs;
Description:
LED INTERIOR LIGHT LED Light voltage light can work with both 12 & 24 volts  Draw Amps 0.9A Lumens 1250 lm Approvals CE & RoHS Length 21.5" BUILT IN PIR SENSOR/SWITCH...
Description
LED INTERIOR LIGHT
LED Light voltage light can work with both 12 & 24 volts 
Draw Amps 0.9A
Lumens 1250 lm
Approvals CE & RoHS
Length 21.5"
BUILT IN PIR SENSOR/SWITCH
The electronics used within this unit have been designed to detect the movement of body heat in order to activate the sensor.
5 MINUTE TIMER
Once the sensor has been triggered, this timer unit will automatically switch the connected lamps on for a period of 5 minutes before automatically switching off. If continuous movement is detected then the lights in the vehicle will remain on.
LOW ENERGY CONSUMPTION
The timer switch has been designed to use a minimal amount of power to prevent any unnecessary load on the battery and to work effectively.
LOW PROFILE DESIGN
This surface mounted unit is only 20mm in depth therefore keeping obstruction and damage to the minimum.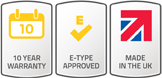 SOLAR PANEL
115W-12V Mono 1030 x 668 x 30mm series 4b
Low voltage-temperature coefficient enhances high-temperature operation.
Exceptional low-light performance and high sensitivity to light across the entire solar spectrum.
25-Year limited warranty on power output and performance.
5-Year Limited warranty on materials and workmanship.
Sealed, waterproof, multifunctional junction box gives high level of safety.
High performance bypass diodes minimize the power drop caused by shade.
Advanced EVA (Ethylene Vinyl Acetate) encapsulation system with triple-layer back sheet meets the most stringent safety requirements for high-voltage operation.
A sturdy, anodized aluminium frame allows modules to be easily roof-mounted with a variety of standard mounting systems.
Highest quality, high-transmission tempered glass provides enhanced stiffness and impact resistance.
Pre wired quick-connect system with PV-ST01 connectors.
Victron AGM Battery
110Ah 12Volt L330 x W171 x H220
1. VRLA technology VRLA stands for Valve Regulated Lead Acid, which means that the batteries are sealed. Gas will escape through the safety valves only in case of overcharging or cell failure. VRLA batteries are maintenance free for life.
2. Sealed (VRLA) AGM Batteries AGM stands for Absorbent Glass Mat. In these batteries the electrolyte is absorbed into a glass-fibre mat between the plates by capillary action. As explained in our book Energy Unlimited AGM batteries are more suitable for short-time delivery of high currents than gel batteries.
3. Sealed (VRLA) Gel Batteries Here the electrolyte is immobilized as gel. Gel batteries in general have a longer service life and better cycle capacity than AGM batteries.
4. Low Self-Discharge Because of the use of lead calcium grids and high purity materials, Victron VRLA batteries can be stored during long periods of time without recharge. The rate of self-discharge is less than 2% per month at 20°C. The self-discharge doubles for every increase in temperature by 10°C. Victron VRLA batteries can therefore be stored for up to a year without recharging, if kept under cool conditions.
5. Exceptional Deep Discharge Recovery Victron VRLA batteries have exceptional discharge recovery, even after deep or prolonged discharge. Nevertheless repeatedly deep and prolonged discharge has a very negative effect on the service life of all lead acid batteries, Victron batteries are no exception.
6. Battery Discharging Characteristics The rated capacity of Victron AGM Deep Cycle batteries refers to 20 hour discharge.
UD0522
Victron Shed & Lighting Kit. Solar Power & Premium Led Lighting with PIR & AGM Battery
£999.57