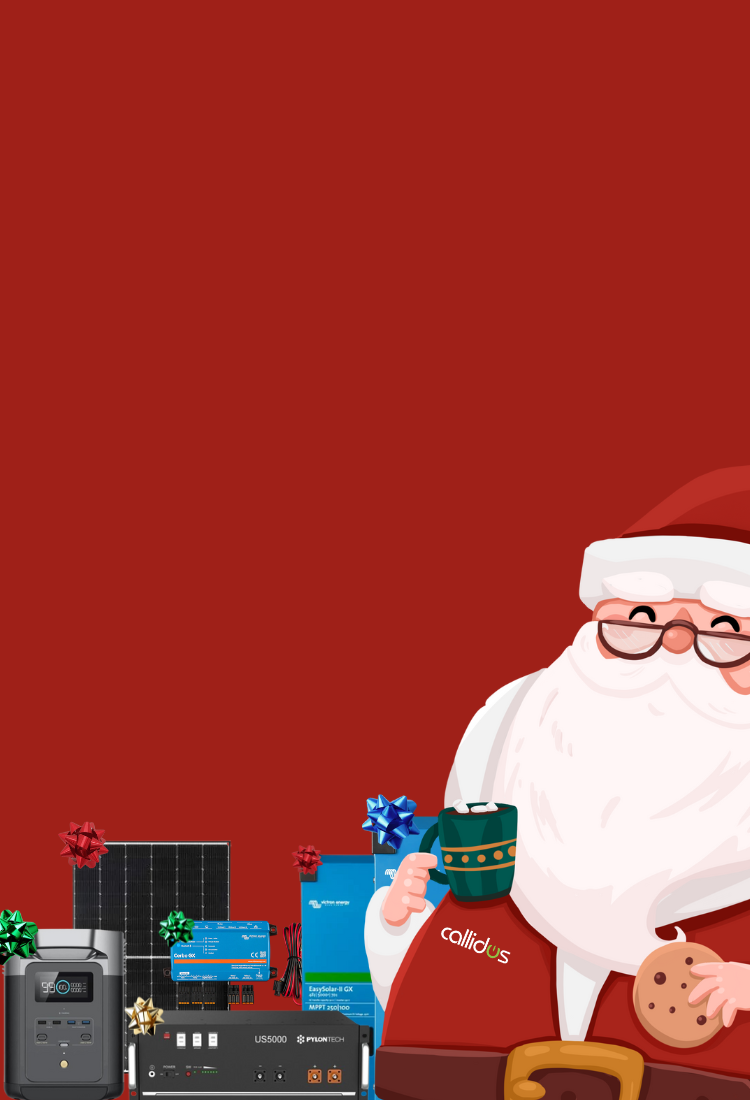 ⭐⭐⭐⭐⭐
Save £££ With An Extra 5% Off At Checkout
Join Hundreds Of Happy Customers This Holidays
SHOP EVENT DEALS
Order Within %D Days, %H Hours To Get It Before The 25th🎄
Welcome to Callidus Shop we are here to help you!
Callidus Design and Supply all Victron equipment
If you need any help you can chat with us online so we can help you or give us a call
We have a wealth of experience and offer the following:
Off-Grid Solar and battery systems,
Leisure applications such as Motorhomes, Boats, Campers and Caravans.
On-grid solar and battery storage
Please note we advise our systems are installed by a
qualified / competent person.
We also have an installation company which is on www.callidus.co.uk where we will undertake larger off-grid solar and battery installation projects.
Contact Us
Don't take our word for it.
From the first phone call I made the service was great and once I had ordered the parts I required I was kept updated as to when they would be shipped, all my items where delivered safely, I would most definitely use this company again and would recommend to others .
Callidus has provided me with a five star service for all three separate purchases I have made with them they have provided me with a Good product at a great price. Thanks
Great advice and item delivered quickly at a fantastic price. Great service.
I only have positive things to say about my experience with Callidus. Russ is an amazing man who didn't stop anything to help me out with my Victron system. His patience and depth in knowledge helped me to plan out and execute an off grid system for my camper conversion which works perfectly.
What a great team 😃 Great service and fantastic product knowledge.👍. Would recommend to anyone.
Loved the range of "motorhome" kits - so helpful for me as a novice to work out what I needed and then to get all the extra bits in one place. I had one query which was sorted within the day, great service - thanks
Fantastic customer service! Such incredibly helpful staff. Can't rate them highly enough. Highly recommend this company. So helpful and really fast service. I spoke with Chris and Dave at a time when other staff where out and they went above and beyond to help.
Brilliant service. Quick delivery, great communication and they went the extra mile to enable me to collect one of my items from a local distributor when it was out of stock at their own warehouse. Couldn't recommend more highly. Thanks.
Russ and his team are awesome. They helped me design the system, advised on my requirements and their after sales help was good standard. If building an off grid camper van and have no experience and want old fashioned good customer service, these are the guys for you.
CONTACT INFORMATION
We love to hear from you and are ready and waiting to answer any questions or queries you may have. Please complete the form and one of our team will get in contact.
Units 3-4 Swift Industrial Estate, Kingsteignton, TQ12 3SH, United Kingdom